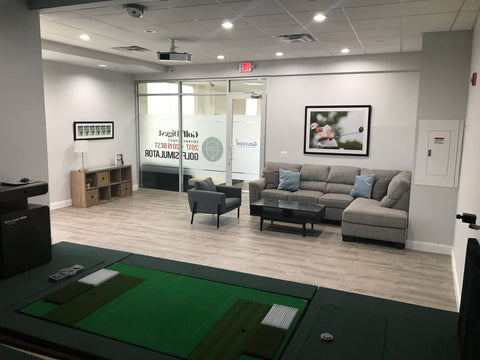 21golfrange
GOLFZON ROOM C
Simulator hours : 7am- 11pm 
No cancellation within 24 hours (you will be charged) 

Groups larger than 2 must reserve at least 2 hours

It takes on average 1 hour for 1 player to hit 18 holes
To complement the modern feel of our golf range, 21 Golf added the World's Best GOLFZON simulators in 3 large rooms that can comfortably accommodate up to 6 players.  Book online or call us at (201)-941-4455 to reserve a session now.  

Dubbed "The Lamborghini of Golf Simulators," GOLFZON is the global leader in golf simulators with over 30,000 simulators sold in 62 countries. GOLFZON is also proud to be awarded Golf Digest Editor's Choice Award for Best Simulator for five consecutive years (2017-2021). 
Protected by over 250+ patents, unparalleled features include: hydraulic swing plates, auto-tee system, and multi-surface hitting mats. But what truly separates GOLFZON from the competition is their short game accuracy. Being the only golf simulator in the world that is trusted by and hosts two professional tours, they stand in a league of their own.Play on over 170+ world-famous global courses such as: St. Andrews, Pebble Beach, Harbour Town, and more. Share your scores and swing videos, as well as compare club analytics between friends on the GOLFZON App- extending the experience far beyond virtual golf.